Orion Vanessa Carloto, (born September 9, 1996), better known as Orion Carloto, is an American actress and YouTube personality. She has a minor role in Hayley Kiyoko's "Curious" music video and portrays a flirty girl.
Carloto as born in Atlanta, Georgia. She was a theater student and ran an online blog.[2] She came out as bisexual in May 2017[3] and has been dating Brittenelle Fredericks ever since.[4]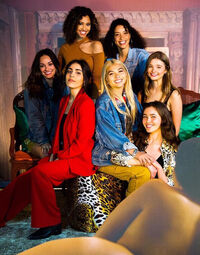 Carloto first gained fame alongside her best friend Sam on the comedy channel OrionAndSam.[5] She created her own independent channel following the success of OrionAndSam which she called Orion Carloto on which she has more than 260,000 subscribers.[6] Moreover, she's written for a magazine called "Local Wolves" and runs a self-titled website. She has also released a book called "Flux".[7]
She also appeared in the The Road To Expectations - A Hayley Kiyoko Music Video Retrospective video on YouTube.[8]

Music Videos
Edit
References
Edit