Welcome to the Hayley Kiyoko Wiki. The Hayley Kiyoko Wiki is a free enyclopedia dedicated to the American singer, actress and songwriter Hayley Kiyoko. We are always trying to provide you with new, fresh updates and information on everything Hayley related. Every fan of the successful LGBT-advocate is welcome to contribute their knowledge here. Have fun browsing!

Please note that we are in no way affiliated with Hayley, her management or family but rather just fans creating content for fans!
This wiki currently run by LordStormborn.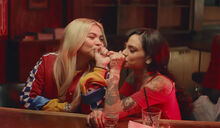 Kehlani
Kehlani Ashley Parrish (born April 24, 1995), known professionally as Kehlani, is an American singer and songwriter who collaborated with Hayley Kiyoko on "What I Need" and also appeared in the single's music video. Kehlani's singing career effectively began when she started out as a member and lead vocalist for the group called PopLyfe. In 2011, they auditioned for the sixth season of America's Got Talent, and eventually finished in fourth place. During their final appearance, judge Piers Morgan told Kehlani, "You've got real talent, but I don't think you need the group." Her solo career went through the roof however. So far Kehlani has released two mixtapes and twenty two singles and her debut album SweetSexySavage was released on January 27, 2017. Read more
"One Bad Night"
In her self-directed music video for "One Bad Night", Hayley tackles trans violence by telling the story of the two strangers Amber and Donald. The video depicts how Amber (portrayed by Erin Armstrong) gets kicked out of her home and wanders through the streets with all her belongings at night. At the same time Donald (portrayed by Kelvin Harrison Jr.) gets mocked by his Valet Boss at work because he was late. He decides to steal a car he was supposed to park and goes on the highway. Read more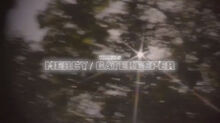 "Mercy/Gatekeeper"
"Mercy/Gatekeeper " is the fifth track off Hayley's debut album, Expectations. It is the only song on the album where the lyrics came first. It's a poem that came from Kiyoko's journal word for word at 4 AM. She described herself to be in a "bad place mentally trying to find the light" at that time. The song is supposed to help listeners through and remind them to keep moving forward, no matter how dark it gets. Read more
...that Hayley is not only of Japanese but also of German, Welsh, English and Scottish ancestry?
...that Hayley is left-handed?
...that Kiyoko is Hayley's middle name and not actually her surname?
...that "Kiyoko" is of Japanese origin and means "clear, pure, clean" or "holy" ('kiyo'), and then "child" ('ko')?
...that Hayley is an Aries?
...that Hayley was part of a band before starting her solo career?
..that Hayley is gay? - "Um yes, lol, we all do."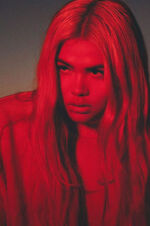 Hayley Kiyoko Alcroft (born April 3, 1991), known professionally as Hayley Kiyoko, is an American singer, actress and songwriter who became famous as member of the now-dissolved band The Stunners in the music industry. The group released one extended play and multiple singles but they eventually parted ways in 2011. Originally earning success in the film industry and becoming known for her roles as Velma Dinkley in Scooby Doo!The Mystery Begins and Scooby Doo! Curse of Lake Monster and as well as Stella Yamada in the Disney Channel film Lemonade Mouth, she more recently gained recognition for her profession as a singer and her work for the LGBT community.
She began to establish herself as a solo artist with her debut single "A Belle to Remember" however, the first song to draw international attention to Kiyoko was the LGBT-anthem "Girls Like Girls". So far she has released three extended plays and one album, Expectations. Read more

"Your bravery encourages more bravery. Your fear can turn into someone's courage."
—Hayley Kiyoko on twitter