"Girls Like Girls" is the second single and third track off Hayley Kiyoko's extended play This Side of Paradise. It was self-released on February 3, 2015 and later as a single on June 24, 2015 through Steel Wool Records.
The song established Kiyoko as an internationally known artist, an LGBTQ+ idol which was also fueled due to the success of the song's music video.
The song is the first one in which Kiyoko openly sings about her homosexuality and has thus become an LGBT-anthem.
Background
Edit
Kiyoko's majorly successful single "Girls Like Girls" tells the story of a young girl who is currently involved with boys and is actively looking to start relationships with girls.[1]
In an interview with US Weekly, Hayley described the song as a "female anthem for a girl stealing another guy's girl", subverting the common theme of "guys always.. stealing other guys' girls".[2][3]
However, before the song's success Kiyoko was scared to release this song, as she was afraid of the reaction and reception.[4] She kissed boys in previous music videos and was still closeted when she wrote this song but grew tired of hiding:[5]
"I wrote for the first time how I truly feel about girls."
- Kiyoko about writing the song
On June 17, 2015 Kiyoko announced that this song would be released as a single.[6]
According to Hayley in an interview with Elite Daily[7], she didn't have any artist that she could relate to when she was growing up, and so, she decided to tell her own stories. In an interview with Elle Kiyoko describes "Girls like Girls" as a story that she believes others can relate to[8]:
"There's not a lot of representation for young girls who are best friends who might fall in love. A big point for me was to respect that and keep it real, so people can realize it's not just a joke."
- Kiyoko
In a personal essay written by Kiyoko for Paper, she said that "Girls Like Girls" was born on a rainy day where she had a writing session with Owen Thomas and Lily-May Young.[9][10]
"Growing up, everything I did was always about girls. I took dance because of girls. I got involved in student council because of girls. Not that I ever expected any of them to like me back, but I just felt comforted being around them, even if I could never date them. So there we were. The song "Girls like Girls" was born."
- Kiyoko in the personal letter
The song as since gone on to be a turning stone in Kiyoko's career but also ,more importantly, the entire LGBTQ+ music industry, establishing Kiyoko as a queer icon, especially for young lesbians whom she gave a platform they never had. Following this music video and many more LGBTQ+ themed music video Kiyoko acquired the nickname "Lesbian Jesus".[11][12]
Moreover, the reception of both the song and the music video encouraged Kiyoko to publicly come out[13] and made her feel comfortable to with star in her own music videos while telling lesbian stories.
It also opened the door and allowed Kiyoko to sign onto major Atlantic Record Label.[14]
[Verse 1]
Stealing kisses from your missus
Does it make you freak out?
Got you fussing, got you worried
Scared to let your guard down
Boys, boys
Tell the neighbors I'm not sorry if I'm breaking walls down
Building your girl's second story, ripping all your floors out

[Chorus]
Saw your face, heard your name, gotta get with you
Girls like girls like boys do, nothing new
Isn't this why we came? Gotta get with you
Girls like girls like boys do, nothing new
Girls like girls like boys do, nothing new

[Verse 2]
Always gonna steal your thunder
Watch me like a dark cloud
On the move collecting numbers
I'ma take your girl out
We will be everything that we'd ever need
Don't tell me, tell me what I feel
I'm real and I don't feel like boys
I'm real and I don't feel like boys

[Chorus]
Saw your face, heard your name, gotta get with you
Girls like girls like boys do, nothing new
Isn't this why we came? Gotta get with you
Girls like girls like boys do, nothing new
Girls like girls like boys do, nothing new

[Bridge]
I've been crossing all the lines, all the lines
Kissed your girls and made you cry, boys

[Chorus]
Saw your face, heard your name, gotta get with you
Girls like girls like boys do, nothing new
Isn't this why we came? Tell me if you feel it too!
Tell me, girls like girls like boys do, nothing new
Girls like girls like boys do, nothing new
Critical reception
Edit
Even though the song did not chart it went on to have major success and made Kiyoko an internationally known singer. The song has been praised by the LGBTQ+ community, in particular, for featuring a lesbian love story without sexualizing them.
The Guardian went on to say that even though "queer female singers have been around as long as pop itself (Lesley Gore, Dusty Springfield) (...), their music rarely reflected their sexuality". They describe this song to be "something new, at least in mainstream pop". Moreover, they went on to compare her with queer singers like "Halsey, Shura and Muna [who] are turning the tide, but only Halsey has sung explicitly about women, and none have reached pop's top rung." They go on to express how this song managed to break the boundary of homophobia and sexism in the mainstream and have hope that "perhaps Kiyoko will be the first [to reach pop's top rung]".
But they also criticize how "[the song's] profile [is] still largely bypassed traditional commercial success".[15]
Fans also express gratidute towards this song and some have even come out themselves because of it. One twitter user said: "I also love the #GLG video because it helped my mom better understand what it's like to be me!! I needed this video forso long"[16] while another finally feels understood.[17]
Her co-stars from former movies and films also went on to congratulate her on the song's success.[18]
The song has surprassed 100 million views on YouTube as of December 19, 2018.[19] In addition it has over 40 million streams at least on every major streaming platform.
Music Video
Edit
A music video, directed by both Kiyoko and Austin S. Winchell was released in August. It stars her Jem and the Holograms co-star Stefanie Scott in the main role of Coley as the love interest of Sonya (played by Kelsey Chow).[20] The music video itself caused a big impact on microblogging website Tumblr and eventually went viral, reaching more than 100 million views.[21] The music video represents lesbians without sexualising them.
The music video follows Coley and Sonya as they realize their love for each other extends beyond friendship. The clip opens with Coley looking sad as she rides a bike through a suburban neighborhood with cuts on her face. Coley gets the cuts after Sonya's boyfriend catches them almost kiss by the pool and physically assaults her in a rage. Before the altercation takes place, Coley and Sonya hang out as friends.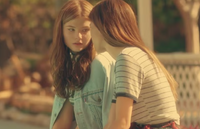 They smoke together at Sonya's house and Coley watches adoringly as Sonya dances freely in an outdoor open space. They exchange knowing looks and long stares as they change into swimsuits before the pool party. Another day, as Sonya is sitting by the pool, Coley approaches her and sits by her. They try to kiss, but Sonya's boyfriend assaults them. After Coley is hit by the boyfriend, she jumps on him as he yells at Sonya and continues punching him until Sonya manages to tear her off of him. The two finally kiss, and the video concludes with Coley riding happily on her bike in the same suburban neighborhood from the first scene.[22]
Stefanie Scott as Coley
Kelsey Asbille as Sonya
Hayden Thompson as Trenton
Justin Lieberman as Best Friend
Jenny Eaton as Girl Friend
Caroline Kaczor as Party Friend
Taylor John Smith as Party Friend
This is Kiyoko's most streamed song on all streaming platforms and the music video for this song is her most viewed music video of all time, surpassing 100 million views on YouTube.
References
Edit