Chanel Elizabeth Celaya (born December 12, 1991), known professionally as Chanel Celaya, is an American actress. She is amongst the main cast in the music video for Hayley Kiyoko's song "Gravel To Tempo" in which she plays Blake who is also known as Headphones Girl.
Life
[
]
Chanel Celaya was born in La Jolla, California. Her father Andrew Celaya, is from Florence, Arizona while her mother Betsey is from La Jolla, California. Chanel comes from a mix of Mexican and Russian ethnicity. Chanel started modeling from the age of 13. After her mother encouraged her to take some acting classes, which she was reluctant to join at first, she happily started her acting career.[2]
Career
[
]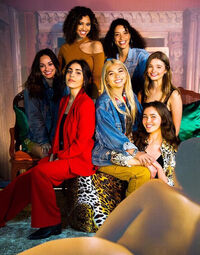 After just a few years of taking acting classes, Celaya was able to appear in the movie 21 Jump Street and after that she made her big scene in Justin Bieber's hit music video: As Long As You Love Me. Moreover, she starr in the MTV series Inbetweeners and was also cast in as the character Ivana in the 2015 Jason Friedberg film Superfast.[3]
She also appeared in the The Road To Expectations - A Hayley Kiyoko Music Video Retrospective video on YouTube.[4]

Music Videos
[
]
Trivia
[
]
She surprised Hayley on October 16th, 2017 and the two eventually kissed due to fans requesting a kiss.[5]
References
[
]